Lamb-3 Shimano XT
Long fast days in the saddle. Titanium gravel adventure bike.
SHIMANO XT
Shimano XT M8100 12-speed groupset provides reliable shifting, superior braking and easy mechanical maintenance. Not only light and durable, Shimano put a lot of investment into XT. As a result XT has an excellent reputation for shifting under load.

In addition to the XT groupset, we have chosen the Rockshox SID Ultimate fork as a perfect complement. This fork offers a well-balanced performance with 120mm of travel and a 44mm offset. It features a stiff and lightweight 35mm chassis, ensuring precise handling and responsiveness on the trails. The fork is equipped with the high-end Charger Race Day damper, delivering exceptional damping performance for a smooth and controlled ride. Experience the ultimate in trail-riding performance with the Rockshox SID Ultimate fork paired with the XT groupset.

To complete the build, we've chosen the Hope Fortus 23 Pro5 wheelset (with other options also available) to deliver exceptional durability and ride quality. These wheels are built to withstand the demands of rugged terrain, providing optimal toughness for off-road adventures.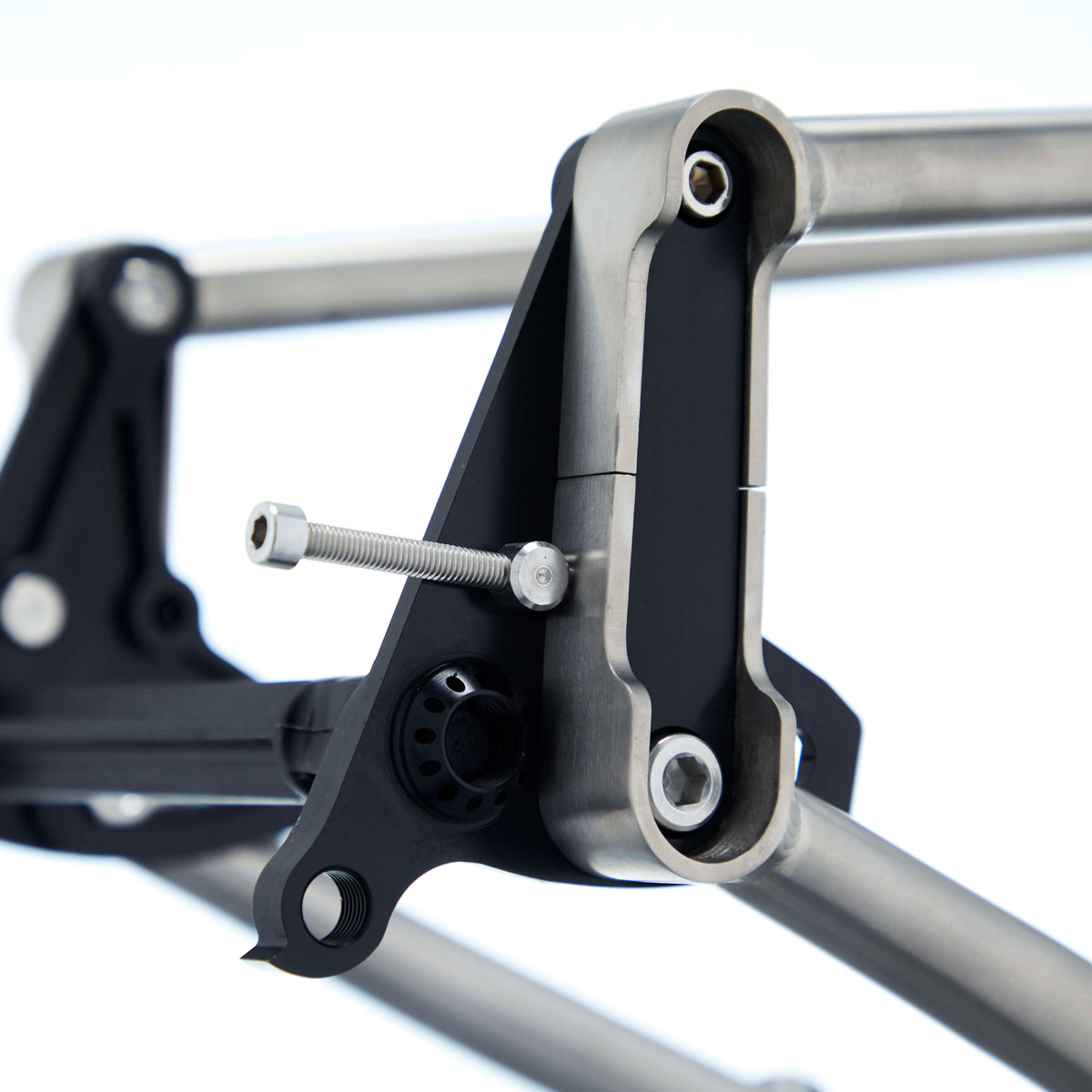 ROCK N ROLLOUT DROPOUTS
The RocknRollout Dropout is at the heart of the OLSEN frame design. We have focused our design around the rear derailleur dropout, but taken it further. Most bicycle frames have replaceable dropouts, but they do not allow for anything other than a derailleur. This idea came from the fact that UK riders often have a winter bike, which is often single-speed.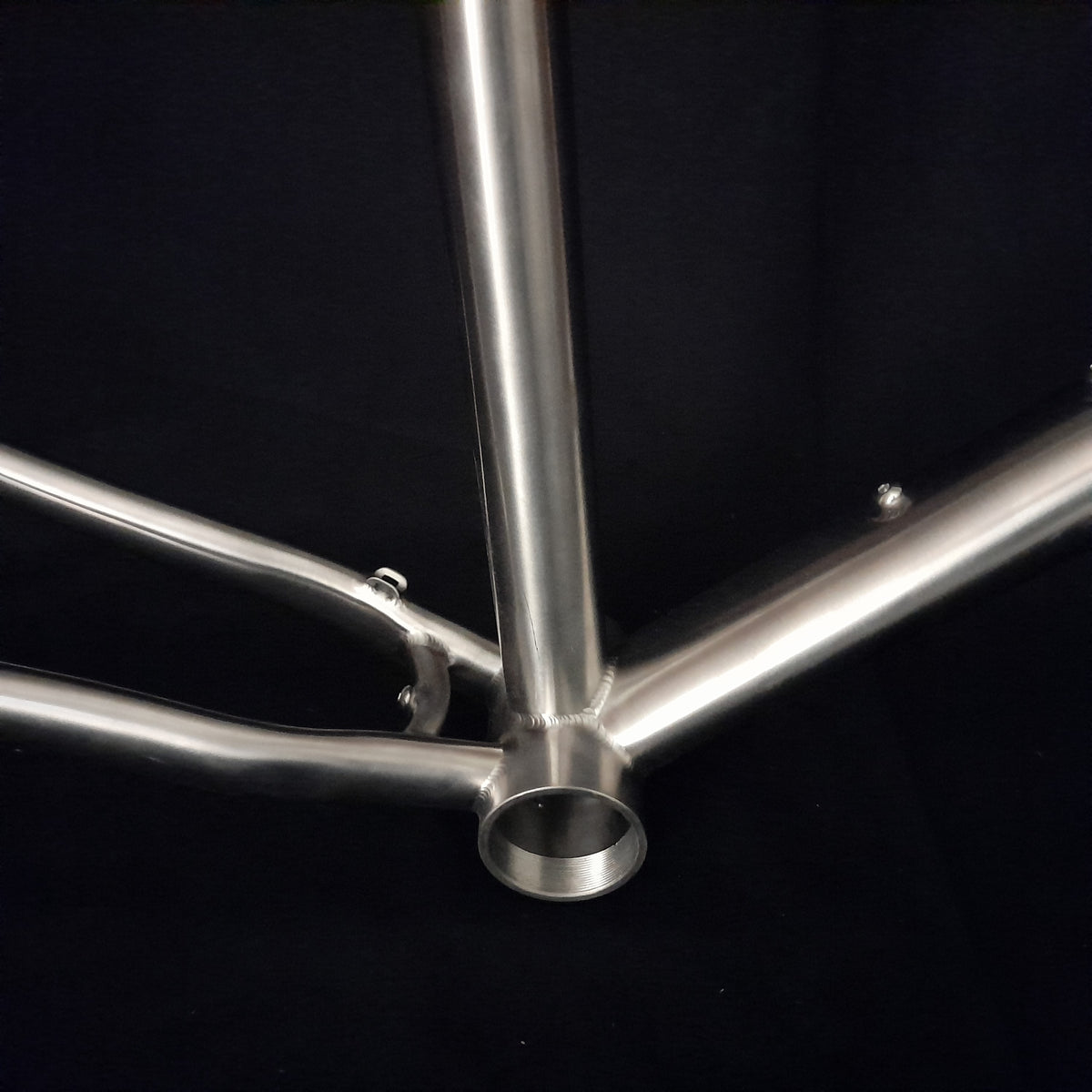 T47 X 92 BOTTOM BRACKET
There is a lot going on in this part of the bike frame. Tyre and chainring clearance, but also frame stiffness. T47 internal keeps the bottom bracket nice and wide, while resolving the issues with PF92.  A 92mm shell allows the chainstays to be wider, providing more tyre clearance.  92mm also means that the chainstays can be welded wider on the frame, making the bottom bracket area stiffer for belt drive use.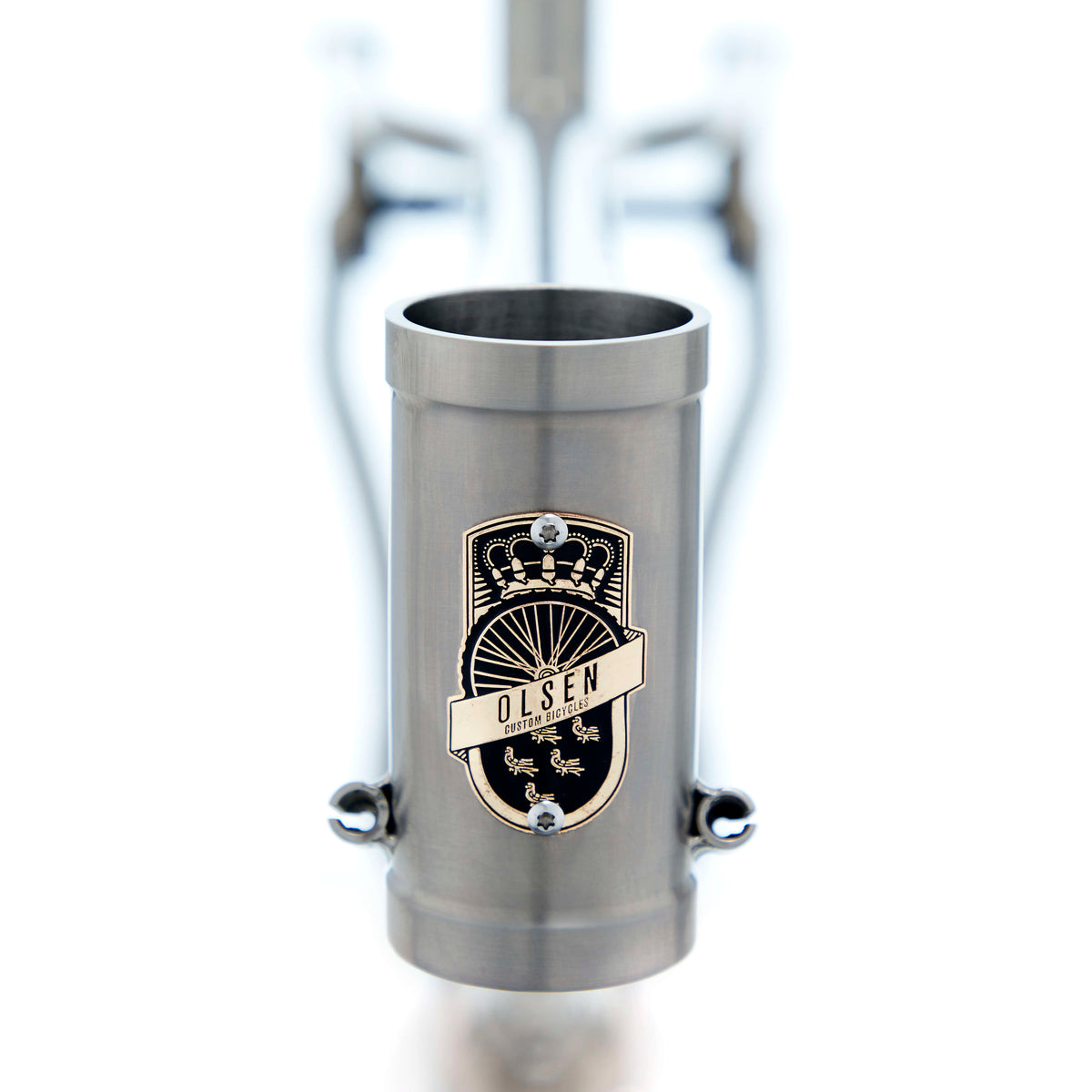 HEADSETS ZS44 EC44
I chose the straight 44mm Headset "standard" for several reasons. They are straight and keep a simple look, while hiding their versatility. Zero Stack 44mm (ZS44) top or bottom cups and the External Cup 44mm (EC44) bottom cup. In SHIS codes 44/44 allows for both Tapered Carbon fork steerers using ZS44/EC44 and is backward compatible with straight steerers with either a crown reducer or a ZS44/ZS44 headset.
ROHLOFF COMPATIBLE
If you're planning a long-distance bike packing tour, one of the best upgrades you can make to your bike is to switch to a Rohloff geared hub. A Rohloff Speedhub offers a number of benefits over a traditional derailleur system.
Its durability, smooth shifting, and wide range of gears make it the perfect choice for touring on any terrain.
FRAME & FORK
Frame: Full Ti-3Al-2.5V Grade 9 Titanium alloy tubing, T47x92 bottom bracket.
Fork: RockShox SID Ultimate 100mm.
Headset: Hope ZS44/EC44 sealed bearing headset.
TRANSMISSION
Shifting Shimano XT M8100
Chainset Shimano XT 32T M8100
Cassette Shimano XT M8100 10-51T
Chain Shimano XT 12spd.
WHEELS & BRAKING
Braking: Shimano XT or Hope Tech 4 X2 hydraulic brakes (any colour)
Tyres: Maxxis, Schwalbe or Vittoria (your choice).
Wheels: Hope Fortus Pro5 hub wheelsets (your choice).
FINISHING KIT
Clamp: Hope Bolt 34.9mm
Seatpost: SRAM Reverb Stealth 30.9 dropper
Saddle: S-Italia Model-X
Grips: Sram Lock-on
Stem: Hope XC Stem
Handlebar: Olsen Windowlicker