titanium cross gravel bike
The Lamb spans the realm between Cross Country meets Gravel or Monster-Cross. Designed to be versatile, running drop bars or flat bars, this bike will take you out the back of beyond, all from your doorstep. Some might say that this is back to where mountain biking began in the 1980's. Monster Cross have been over shadowed recently by the popularity of Gravel riding, however riding rigid with wider tyres is less punishing. Fitting up to 29x2.2"" tyres, this bike will not punish you unless you want it too.
Lamb-5 - Titanium SRAM AXS GX 12 Speed Cross Gravel Bike
Frame: Full Ti-3Al-2.5V Grade 9 Titanium alloy tubing and custom features exclusive to Olsen Bikes, simple removeable split external cabling and custom shaped and formed tubes.
Dropouts: Replaceable RocknRollout Dropouts with tensioning screws.
75mm tyre clearance for 29 x 2.4" tyres and 34 tooth chainring.
Externally routed dropper cable.
Premium quality stainless steel fittings.
Simple removeable split external gear cabling.
SRAM Reverb AXS 30.9 dropper post.
SRAM GX AXS Wireless Groupset
Hope Tech 4 X2 hydrualic brakes.
Choice of Schwalbe, Maxxis or Vittoria 29" tyres in various widths and tread patterns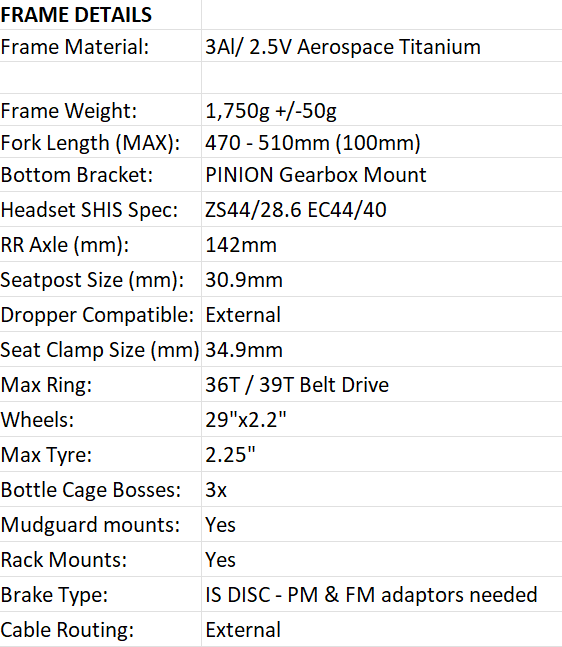 sram axs gx 12 speed
The GX AXS build spec offers a remarkable combination of features, including a 520% gear range, fully customizable wireless shifting, and a durable derailleur with impact-sensing technology. With a single detachable 25g battery that powers the system for up to 20 hours and a quick 1-hour USB charging time, you can enjoy long rides without worrying about battery life. Say goodbye to shift cables that can break or cause issues, as this system operates wirelessly for a seamless and hassle-free experience. This high-performance build spec is designed to cater to the needs of avid cyclists looking for reliability and versatility in their gear.

In addition to the GX groupset, we have chosen the Rockshox SID Ultimate fork as a perfect complement. This fork offers a well-balanced performance with 120mm of travel and a 44mm offset. It features a stiff and lightweight 35mm chassis, ensuring precise handling and responsiveness on the trails. The fork is equipped with the high-end Charger Race Day damper, delivering exceptional damping performance for a smooth and controlled ride. Experience the ultimate in trail-riding performance with the Rockshox SID Ultimate fork paired with the GX groupset.

To complete the build, we've chosen the Hope Fortus 23 Pro5 wheelset (with other options also available) to deliver exceptional durability and ride quality. These wheels are built to withstand the demands of rugged terrain, providing optimal toughness for off-road adventures.

Bike Weight: 10.5kg.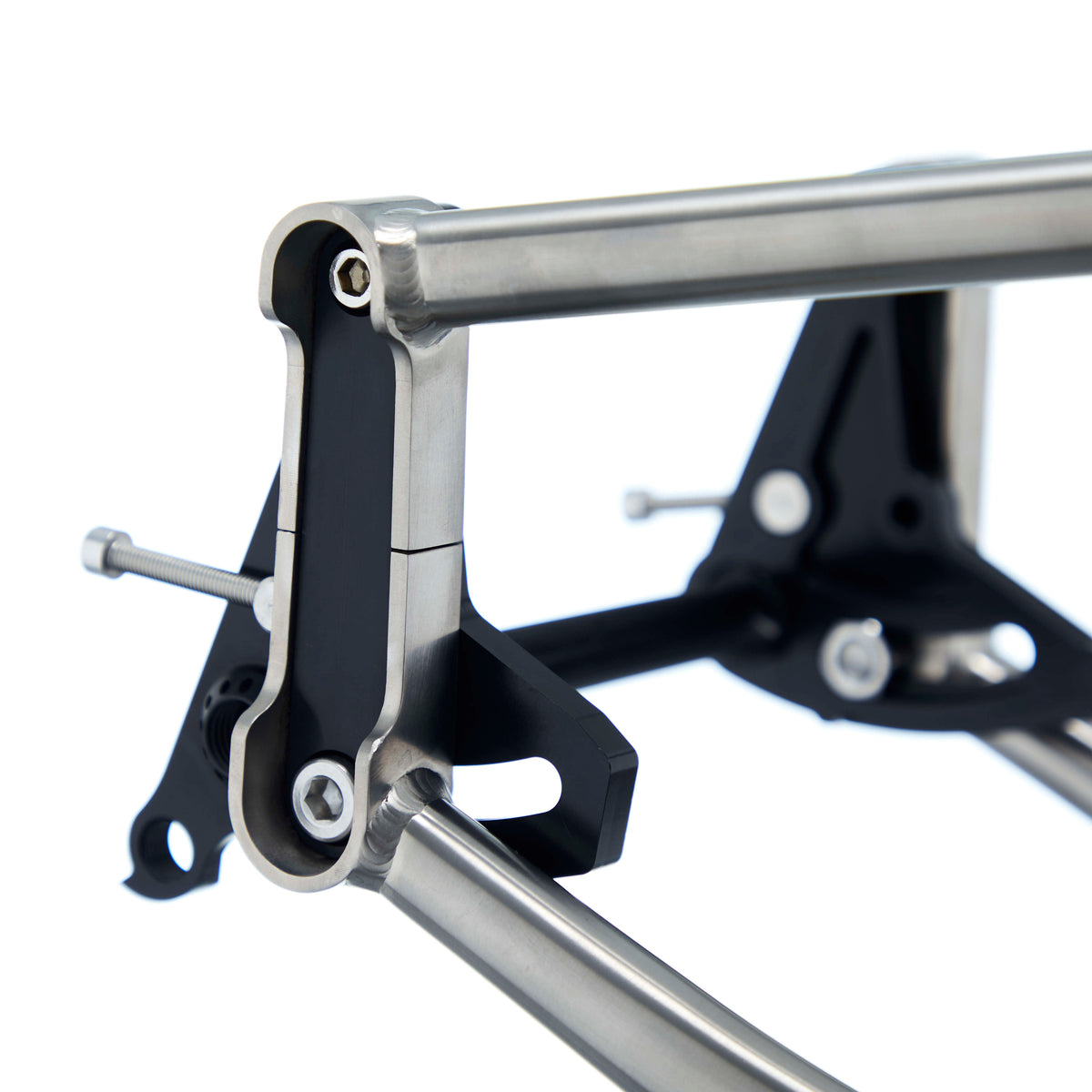 Rock n rollout dropouts
The RocknRollout Dropout is at the heart of the OLSEN frame design. We have focused our design around the rear derailleur dropout, but taken it further. Most bicycle frames have replaceable dropouts, but they do not allow for anything other than a derailleur. This idea came from the fact that UK riders often have a winter bike, which is often single-speed.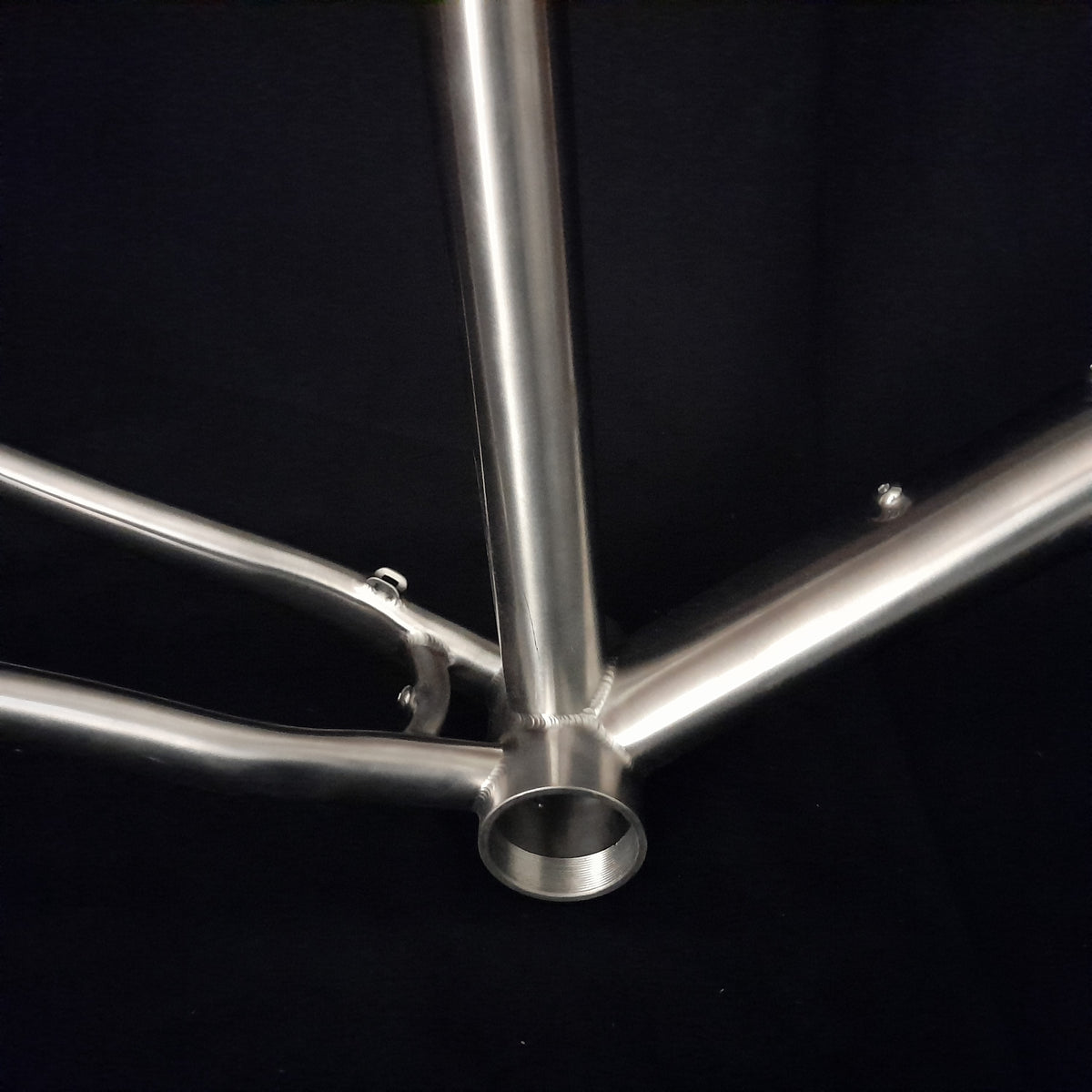 t47 x 92 bottom bracket
There is a lot going on in this part of the bike frame. Tyre and chainring clearance, but also frame stiffness. T47 internal keeps the bottom bracket nice and wide, while resolving the issues with PF92.  A 92mm shell allows the chainstays to be wider, providing more tyre clearance.  92mm also means that the chainstays can be welded wider on the frame, making the bottom bracket area stiffer for belt drive use.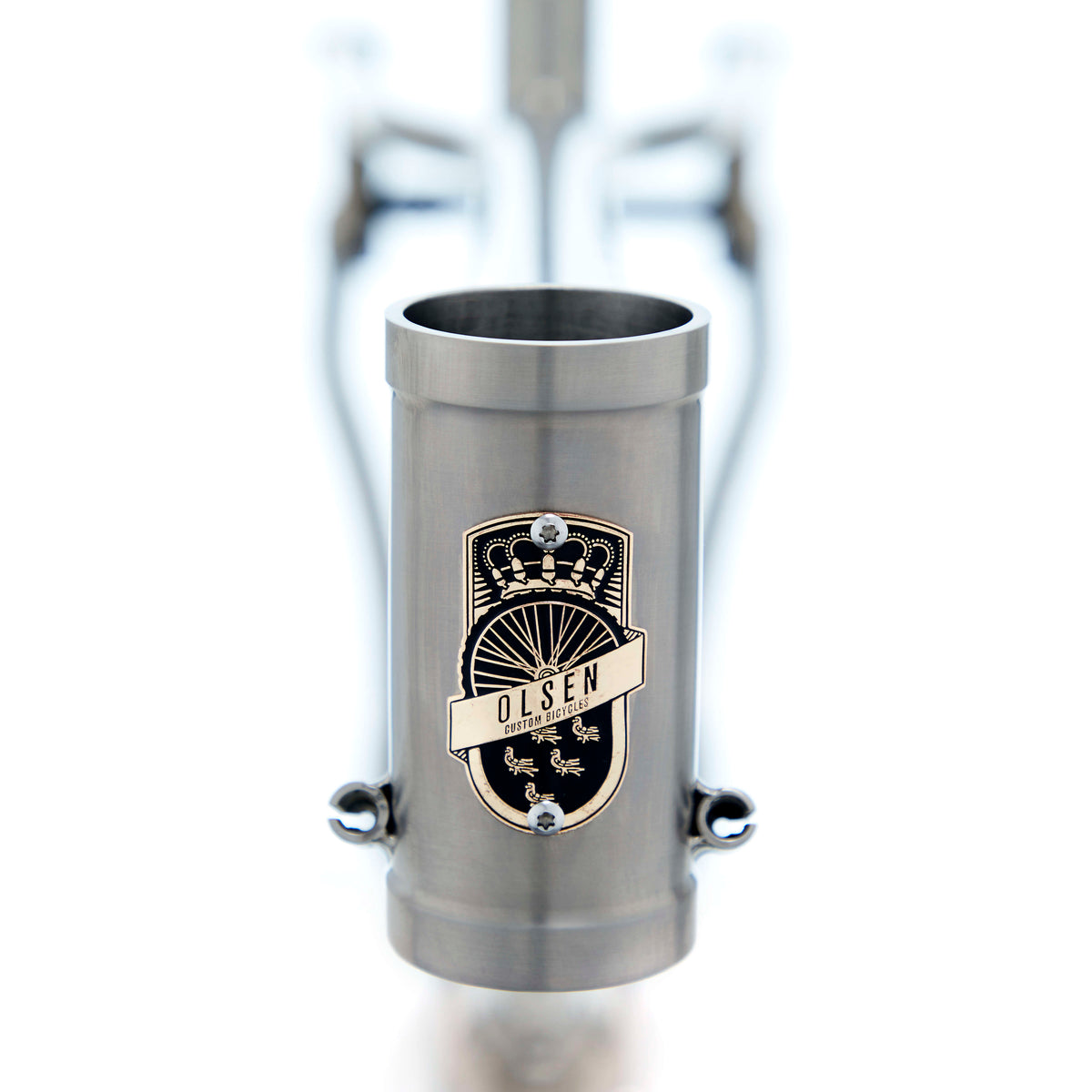 HEADSETS ZS44 EC44
I chose the straight 44mm Headset "standard" for several reasons. They are straight and keep a simple look, while hiding their versatility. Zero Stack 44mm (ZS44) top or bottom cups and the External Cup 44mm (EC44) bottom cup. In SHIS codes 44/44 allows for both Tapered Carbon fork steerers using ZS44/EC44 and is backward compatible with straight steerers with either a crown reducer or a ZS44/ZS44 headset. 
rohloff compatible
If you're planning a long-distance bike packing tour, one of the best upgrades you can make to your bike is to switch to a Rohloff geared hub. A Rohloff Speedhub offers a number of benefits over a traditional derailleur system.
Its durability, smooth shifting, and wide range of gears make it the perfect choice for touring on any terrain.
Frame & Fork:
Frame: Full Ti-3Al-2.5V Grade 9 Titanium alloy tubing, T47x92mm bottom bracket and CNC'd Rock n RolloutDropouts
Fork:RockShox SID Ultimate 100mm.
Headset: Hope ZS44/EC44 sealed bearing headset.
Transmission:
Shifting: SRAM GX AXS Eagle Wireless.
Chainset: SRAM GX Eagle Alloy 32T Chainset.
Cassette: SRAM XG-1275 10-52T.
Chain: SRAM GX Eagle 12sp
Wheels & Braking:
Braking: Hope Tech 4 X2 hydrualic brakes (any colour)
Tyres: Choice of Maxxis, Schwalbe and Vittoria.
Wheels: Choice of Hope Fortus Pro5 wheelsets
Finishing Kit:
Clamp: Olsen Stealth.
Seatpost: SRAM Reverb Stealth 30.9 post.
Saddle: Selle Italia Model X
Grips: Sram Lock-on
Stem: Hope XC Stem
Handlebar: Olsen Windowlicker