light, fast & cross country
ginger fox gravel & adventure BIKES
The Ginger Fox is smart and as Fast as feck. If Tomac had 29" wheels NORBA would have been on fire. This bike has all of the modern features, that has advanced weight saving components.  This frame has internal cable routing and is discrete enough to use wireless.
With a massive 54mm bottom bracket this bike can handle internal cable routing. This frame has an EBB30 based on 54x68mm bottom bracket shell.  We have been developing this with RIDEWORKS based on their PF30 EBB 42mm design... however 54x68mm is the Bushnell BB standard with more throw. The main advantage is BB adjustment, but also internal cable management.  The RIDEWORKS EBB54 is a clean solution allowing both brake and gear cabled to be run over or under the BB shell.
tapered headtube
A tapered headtube, such as the one adopted using Hope's SHIS IS42/IS52 headset standard, provides better handling and stability, wider fork compatibility, simplified maintenance, and a high-performance feature that enhances the overall riding experience. This feature is commonly found on high-end and performance-oriented bicycles.
hidden gear cables
With the use of an eccentric bottom bracket, such as the one we have implemented, we were able to create more space for mechanics to run everything internally, including Di2, mechanical, and hydraulic. This not only improves the bike's performance and durability but also simplifies maintenance and reduces the risk of cable damage or failure.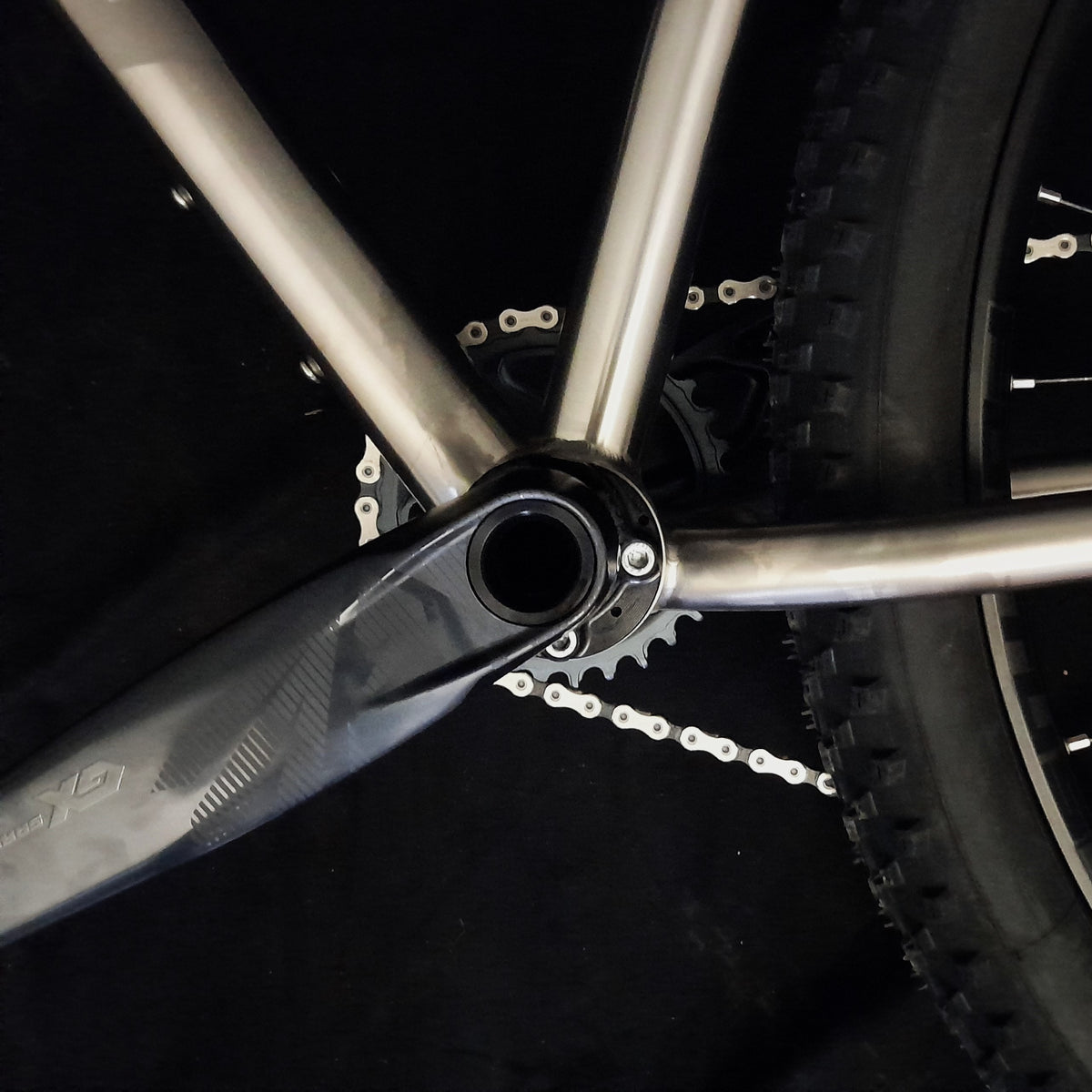 Eccentric Bottom Bracket
This Eccentric BB provides enough room for cable maintenance, which is essential for both internal and external cable routing. This enables easy cable routing and maintenance, leading to better performance and reliability of the bike. The Eccentric BB provides chain tension, which is crucial in single-speed and Rohloff Speedhub bikes.
inboard disc
The calliper is mounted to the CNC post mount bridge that sits between the chain and seat stays. This allows us to use lighter seat-stays and maximizes the tubular chainstay for maximum compliance. Brake rotor size is 160mm, or 180mm with an adapter.